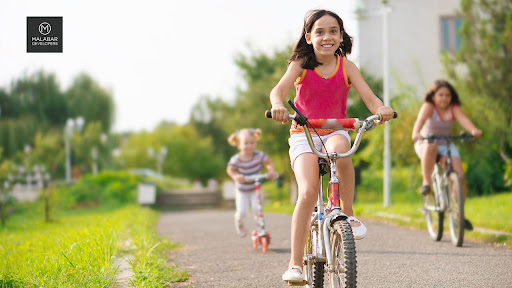 To live in a gated community has many benefits and reflects positively on the physical and emotional well-being of our children as well. Malabar Developers' villas in Kerala provide varied amenities that cater to your growing needs, and gated communities are one amongst those important factors that have gained great popularity among homebuyers in Kerala.
It is sad to mention that society is seeing a rise in the number of crimes and the ones that are associated with children shouldn't be neglected. Hence, every parent wants to ensure a safe, secure, happy and pleasant childhood experience for their young ones. 
Gated communities are an essential feature that is mandatorily offered by top builders in Kerala, like Malabar Developers. Apart from its safety features, it also offers spacious play areas and promotes community living.
To live in a gated community creates a sense of community in both little children and teenagers. Gated housing units by Malabar Developers are the best choices for families with young children. Children not only get the luxury of open play areas but an opportunity to be part of a group of children from different age groups. 
These factors definitely help the children to develop their socializing skills.
Top Benefits of Living In a Gated Community
As a parent, nothing is more important than the safety of their children.  Choosing to live in a gated community, makes both the children and parents feel much secure when compared to independent houses. 
The benefit of additional features like CCTV surveillance, round-the-clock security personnel, burglar alarms, access card entry systems, adds to the benefit of being secured. Children can safely access the enclosed play areas and games zones and needn't leave the housing complex. Malabar Developers' flats in Trivandrum and also at other parts of the state have these salient features. 
To live in a gated community means to benefit from child-centric amenities like a dedicated kid's play area, indoor games room, kid's pool, badminton court, football ground and so on. These provide favourable opportunities for children to engage in sports and other physical activities. 
Some of our upcoming flats in Cochin will also include a creche or a daycare facility which are a great blessing for working parents. 
Ample Access to Outdoor Area
With the provision of a gated community, children will enjoy the freedom of playing in large open spaces. Malabar Developers' modern gated communities are designed with beautiful gardens and play areas that offer a wholesome environment for your kids. 
The concept of gated communities makes it possible for the children to experience life close to nature. 
Bottom Line
Malabar Developers' flats in Kottayam and Kochi, Trivandrum, Calicut and other parts of the state have gated villa and apartment projects. We take pride to present before you our portfolio of child-friendly homes across the state that is enriched with state-of-the-art recreational facilities and safety features. 
Hope you want to make the perfect choice of home for your family. Do, contact us.