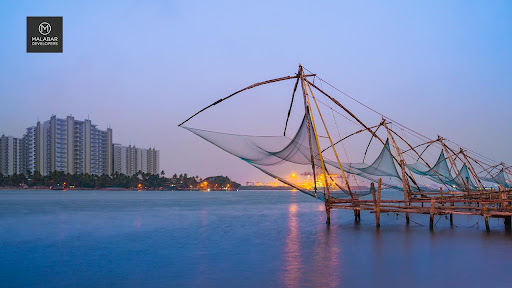 Kochi is undoubtedly a centre for real estate development and sales. The unique geographical location of the city, also known as the 'Queen of the Arabian Sea', contributes to this. Other factors come in as to why people want to choose to live in apartments in Kochi. There are others who want to buy villas in Kochi and live in them too. Let us dig a little deeper into why people want to choose apartments in Kochi.
Kochi is an expanding city assuming the colours of a metro. The suburbs of Kochi including Kadavanthra, Palarivattom, Kakkanad, Kaloor, and Tripunithura among others are all close to Kochi but independent in their way. As an example, living in flats in Kadavanthra is very advantageous for a family. They would be close to the best schools, sports complexes, downtown Kochi, hospitals, public transport hubs and national roadways and waterways. What more can one ask for?
Kochi has a cosmopolitan population and a floating population, thanks to the IT hubs and multinational companies that function here. The possibilities of landing a good job are high in Kochi. The builders who have realized this have built some of the best apartments in all parts of Kochi. Whether you are a single looking for a 1 BHK apartment, or a small family planning to stay for just three-four years in Kochi looking for 2 BHK flats in Kochi, there are numerous options for them to choose from.
Those residents of Kochi who are interested in investments check out apartments in Kochi for sale because they are assured of good rental income from the occupants. The value of these apartments, no matter in which suburb they are, is only going to appreciate in the future with the big infrastructural developments planned for Kochi and Kerala like the inland waterways, the numerous flyovers in the city, and the high-speed rail project, among others that are being planned.
Villas in Kerala are a big hit with its people and it is no different in Kochi. In addition to this, luxury apartments in Kochi are a big draw with the influential people in the city. There are exclusive apartments that feature all the luxury amenities that one can think of. These flats are designed to provide a world-class living experience to their people. 
People in Kerala are widely travelled and, because of this, luxury building projects in Kerala are akin to the ones in Europe, the Middle East, Australia, the USA, or any other developed nation. This is the reason why people want to own apartments in Kochi as it is the commercial capital of the state. 
Kochi is blessed with beautiful landscapes even inside the city. There are a number of canals, waterways, greenery, and backwaters that offer splendid views. The residents of Kochi that live in high-rise apartments can consider themselves lucky as they can get splendid views of these different landscapes from their balconies. 
These are just some of the many reasons why residents of Kochi are eager to pick up apartments in Kochi.