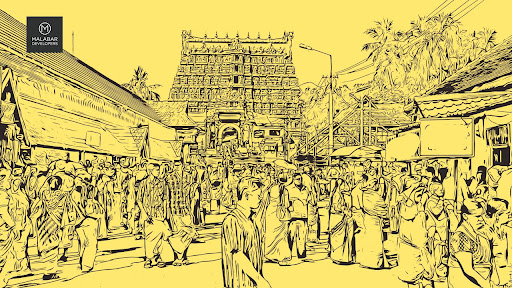 Colloquially known as Trivandrum, firstly it is the capital city of India's southernmost state,  Kerala. As one of the cleanest cities in India, it is undoubtedly a great place to live in. We attempt to provide below some solid reasons as to why you can relocate to Thiruvananthapuram if you are contemplating a move.
#1: Trivandrum presents the quintessential Indian city mood. Bordered by the Arabian Sea on one of its sides, Trivandrum is a place for those who love a modern city that is still a mix of the old and the new. As the land with the richest temple (Sree Padmanabhaswamy Temple) in the world, it has also grown to be an IT hub with several techies, from all over the country, making the city their home. This has upped the demand for real estate in the city and you can find a number of apartments for sale in Trivandrum, the brand new ones and the old ones.
#2: Trivandrum has many peaceful palm-fringed beaches that provide much-needed solace and peace to the working population. You may find flats or villas in Trivandrum for sale near the beaches if you want to enjoy the beauty of the mesmerizing waters. The world-famous beach of Kovalam is only a half-hour drive from the city.
#3: As the capital of Kerala, Trivandrum is a city that has a good basic infrastructure in terms of roads, utilities, education, and public transport facilities. Moreover, there are numerous shopping centres, cinema halls, parks, a zoo, delightful food, modern hotels with international cuisine, malls, and sports facilities that are available in the city. All these make Trivandrum a great city to live in. For those just starting their lives, you may find many budget apartments in Trivandrum that you can move into. A 2 BHK flat in Trivandrum would be ideal for you to move into if yours is a small family with a couple of small kids.
#4: As far as education is concerned, Trivandrum is a hub for high-quality educational institutions. The city has the best kindergartens, private and public schools, technical institutions and medical colleges that are internationally famous. These educational institutions dot the city and some of them even lie on the city outskirts. You may find Trivandrum flats for sale (flats for sale in Trivandrum) near schools and colleges in the city.
#5: Trivandrum is also the city of Ayurveda, the ancient holistic treatment methodology that has its roots in India. Trivandrum has a number of world-famous Ayurveda resorts that are open to local citizens and travellers and tourists. If you have come to the city for treatment purposes, you may find a 2 BHK flat for sale in Trivandrum near one of these treatment centres.
#6: Trivandrum is known for the quality of modern medical treatment that it provides to seekers. The city has top-class government medical institutions and private hospitals that provide the latest treatment options to its patients. From specialized cancer centres to medical college hospitals to the most modern private treatment hospitals, both big and small, many hospitals have opened their doors to the local population.
The city thus offers the best to any person that wants to make Trivandrum their home.