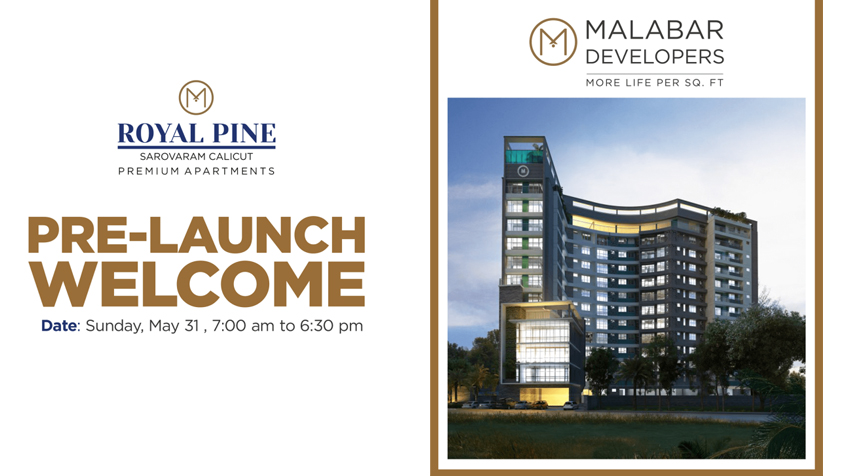 A prelaunch function of the upcoming project Royal Pine Premium Apartments was organized on May 31 at the project site near Sarovaram Bio park.
Royal Pine Apartments offers 2BHK,3BHK, 4BHK, simplex and duplex apartments, in an area of about sixty cents. Compared to the architecture of conventional apartments, it offers more luxury and privacy, with optimum utilization of natural air and light. Royal Pine offers you, not just an apartment It is too ordinary. You deserve more. Live in a home that is Unique.. Spacious.. and away from the buzz of the city and lets your mind wander. Homes that give you a sense of individuality.
The prelaunch function was marked by distribution of saplings to customers by Malabar Group Chairman M.P. Ahammed. Malabar Developers promotes greenery in its projects. Vacant spaces on the ground and rooftops are used for gardening, cultivation of organic vegetables etc.
Royal pine @ Sarovaram
Sarovaram- The multi-crore eco-friendly bio-park in Kozhikode is a fully government owned project meant for conservation of the wetlands through eco-friendly tourism interventions by sustainable methods. It also aimed at boosting tourism development in the Malabar region.
The project site, Kottoli Urban Wetlands, is located in the heart of the city by the side of the NH Bypass between Eranjipalam and Baby Memorial Hospital Junction. This is one of the 27 wetlands of natural importance identified by the Government of India for conservation under National Wetland conservation programme.