When it comes to being the trailblazers, the Malabar Group is a prominent business house in India today. The Group, known for disrupting the jewelry industry and building a global brand, brings to the table a trained workforce, the investment-led models, strong compliance and long term customer relationships. And it is this success model which they have continued in their other ventures too. Be it the real estate and property division, Malabar Developers, the Malabar Watches or Eham Digital, the group has always strived hard to emulate this success story.

Having created a remarkable reputation of its own, the latest offering by Malabar Group in Trivandrum is the Mall of Travancore. This is the first shopping mall in Trivandrum that provides around 700,000 square feet of built-up area. It is ideally located by the Chakkai Junction on the NH bypass and is adjacent to Trivandrum's international airport.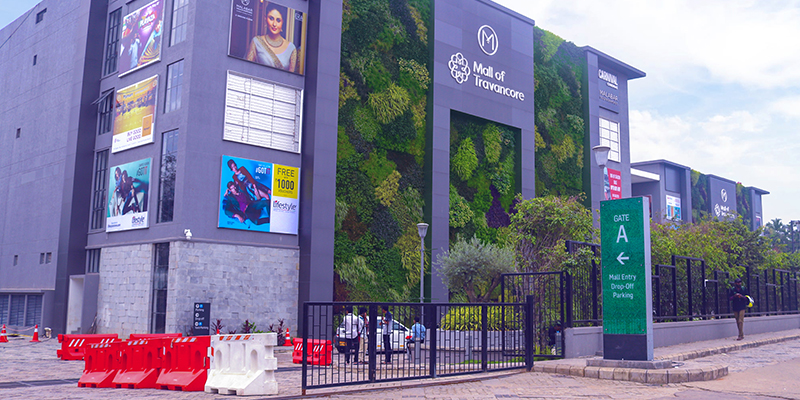 As the first green mall in India, it is spread out over 7 acres of land and provides 150 stores selling over 300 coveted brands to delight the shopper in you. This shopping center offers amazing beauty and fashion facilities, offering you the best shopping experiences in Trivandrum.
And that's not all as it also offers 7 multiplex screens, a play zone called 'Playaza' that is spread over 15,000 square feet area and thrills the child in you with its 11 indoor rides, it's exciting 9D theatres and over 60 videogame kiosks that keeps people of all ages coming back for more! No wonder it's considered the best mall in Trivandrum!
To cater to the high footfall the mall experiences during vacations and weekends, this shopping mall in Trivandrum is equipped with parking facilities for over 1500 cars and bikes. It also has an open area of 50,000 square feet for entertainment, thus providing some of the best shopping experiences and fun all under one roof.
There is something here for everyone and the movie buffs also get to enjoy world-class movie experiences in the 7 hi-tech theatres by Carnival Cinemas. And when all the shopping and fun is over, you can take a ride to the top floor featuring the Food Court and get re-energized with the vast array of gourmet delights. There are more than 25 choice food outlets and restaurants here offering multiple types of cuisines to suit every palate.
Needless to say, the Mall of Travancore is the most sought after destination in Trivandrum as far as the city's citizens are concerned!