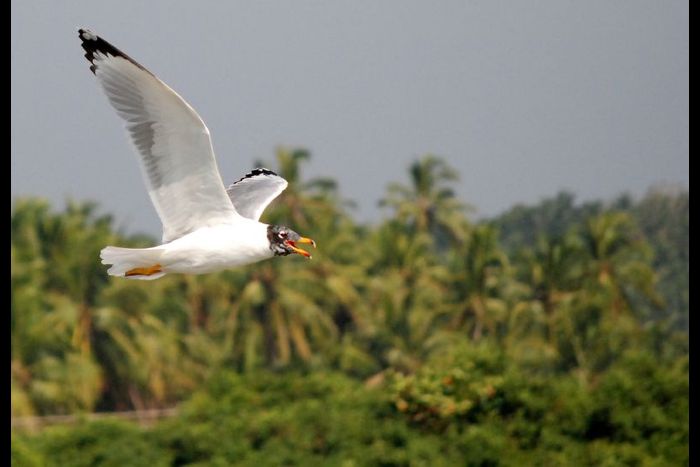 Kozhikode (also known as Calicut) offers you a number of nature's beautiful gems such as sun-bleached beaches, mysterious and meandering backwaters as well as silvery waterfalls and serene lakes. And when it comes to bird sanctuaries, Kerala has some of the best in the country. There are 5 major bird sanctuaries in the southern state of Kerala, with the Kadalundi Bird Sanctuary being the most famous of them all.
The sanctuary is spread out over a 2 square km area where the Kadalundi River drains out into the Arabia Ocean. As the river splits to form an estuary, it creates a cluster of virgin islands that are verdantly green and home to thousands of birds – both migratory as well as indigenous. These scenic islands are surrounded by small hillocks through which the river meanders on its journey to the ocean. The sanctuary hill is around 200m above sea level and offers panoramic views of the entire region. You could enjoy a picnic here in the bosom of Mother Nature as you sit back and relax and enjoy the sights and sounds of birds and animals in their natural habitat. If you are lucky, your presence might even be investigated by some inquisitive otters.
This untouched area has over 60 migratory bird species colonizing the sanctuary during different times of the year. It's a true birder's paradise and you can easily catch sight of herons, sandpipers, seagulls, terns, sand plovers, cormorants, red and greenshanks, egrets, turnstones and even the Brahmini kites.
History – The Kadalundi River originates in the Western Ghats and flows through the Silent Valley, Malappuram and Kozhikode before finally flowing into the Arabian Sea. The estuary formed includes a series of densely green islands that provide the perfect haven for birds to roost in undisturbed.
Best time to visit – November through to April are the ideal months to visit this beautiful bird sanctuary when the rains have let off. Car parking is free here while a nominal ticket of 25 rupees is charged per visitor.
Getting there – The Kozhikode railway station is just 19km away and the nearest airport is 23km away.
Kozhikode is indeed one of the best cities in Kerala to settle down in. With the easy availability of the best infrastructure, great educational institutions, big business houses, etc, there is something here for everyone. Premier builders like Malabar Developers have a number of residential projects here – both apartments as well as villas, for those who are ready to buy a home. To find out more about them here: http://malabardevelopers.com/residential-projects.