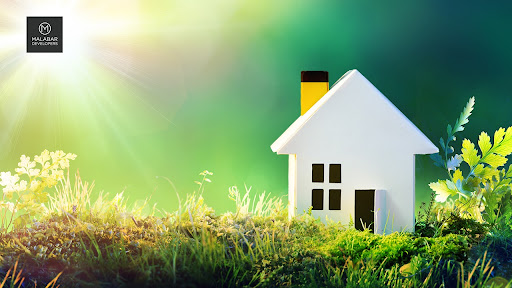 We all are familiar with the saying, "making earth a better place to live." But, is it really a better place as each day passes by? Or, are we doing our part to maintain it as a better place? Well, the answer would be quite uncertain. The quality of the environment around us, the air, the soil, land and the world as a whole is lately seeing a drastic dwindling of quality and naturality these days. 
To become more eco-friendly in our ways and deeds of life is the best thing that we can do to protect the earth for a better tomorrow. Going green is one of the best concepts that everybody is striving for. Being reputed, responsible and the best amongst the top builders in Kerala, Malabar Developers have also been following green building concepts over the years. 
Mentioned in this article are some essential and easy means by which each of us can practice an eco-friendly living right from our homes itself.  
Pro Tips to make your home eco-friendly
When compared to other light sources such as bulbs and CFL lamps, LED lights are an exceptional option of lighting and are also energy-efficient and have a long life. Though initially, LED was used mainly in household gadgets, nowadays it is widely used in many apartments in Kerala. Did you know that LED lights can last up to 10 years? Though cost wise it is a bit on the higher side, you do get the best value for your money. By switching to the use of LED lights, you are thus saving more energy and doing your part of eco-friendly living.
Solar panels are the best means to go green and reduce your electricity consumption. Though the price associated with the installation and setting-up of solar panels is considered a bit costly, your expenses over it will be soon turned into profit by means of your savings that you will be making on your electricity bills. Making use of solar panels as an alternative source of energy, helps you to lower your dependency on the electricity provider. Thereby you are wisely making use of the naturally available source of solar power and being environmentally responsible. Villas in Kerala are seeing a rising trend in switching to solar energy as an alternative to the conventional power supply system. 
With your increased energy consumption, there could be a rise in carbon emissions from your homes. Though in small, unnoticeable amounts, these when happening for a longer period of time, actually affects the purity of the ecosystem. Imagine so many houses emitting carbon over many years. That would really create a not-so-favorable environment, right? Hence, do your part in taking the initiative to plant more trees in your surroundings. The various projects by Malabar Developers, have always emphasized the importance of including more trees and greenery. Thus you can also see a nature-friendly system created at our villas in Calicut, Flats in Kottayam, luxury apartments in Kochi, and Flats in Trivandrum
and elsewhere. 
Make Use of Low Energy Appliances
Electrical appliances constitute 30% of your electricity usage as they require a lot of electricity. The manufacturers of these are constantly striving to create a better version of these appliances. These are already available in the market with some of the major brands. Do your bit of research and switch to the use of low energy consumption appliances, be it your air conditioners, washing machines, geysers, water heaters, etc. Making sure that they are energy-efficient, will lead to eco-friendly living.
Make Efforts To Save Water
A common mistake that we or the children in our homes do is to leave the tap on or leave the tap to drip water slowly. This in turn can increase your water consumption and also lead to increased electricity bills. "Water is precious, Save water." We have been hearing it right from school. But, when are we going to practice? 
Bottom Line
Malabar Developers' green building concepts are focused on making use of materials for construction that emits less carbon and are close-to-nature. Our villas in Trivandrum, flats in Calicut, Apartments in Kottayam and luxury flats in Kochi and in other parts of Kerala are synonymous with eco-friendliness. The points discussed in this article are worth following to make your contribution towards creating an eco-friendly home. Because only together can we make this earth a better place.