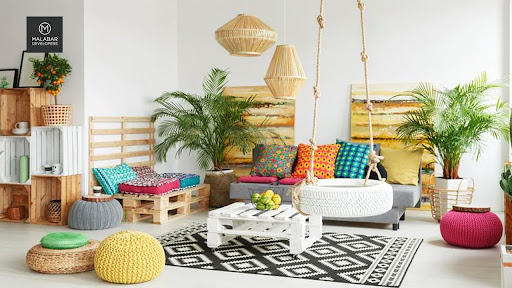 Who doesn't want to have a fresh and new-looking home? But, most often one might not want to spend too much on that, but might be looking for options to do it with the items already available at home. The homes by builders in Kerala, like the Malabar Developers, are awesomely created and multi-functional, making it easier for you to do minute changes to the arrangements of the furniture or add some decor elements to get a totally new looking home. 
All it takes is some creativity (or you can even get ideas from online videos)  and some simple rearranging of the things that you already have. It totally gives any room in your home a fresh look and feel. So, if you are looking forward to revamping your luxury apartments in Trivandrum or your holiday home in Kochi, these helpful tips will definitely give you great ideas.
Mentioned here are a few tips that will spruce up your space without emptying your wallet. 
1. Change The Look Of Your Kitchen Sink Area
If you are someone who loves baskets, this redecorating tip is sure to please. Grab an empty basket and wire it with a hanging light socket after turning it upside down. Use it to hang it over your kitchen table.
Next, you can use the colorful scarves that you hardly wear to create some fashionable café-style curtains for the window over the sink. Cut and hem them to get the right length and use a tension rod to hang them using some clip-on rings.
Finally, get some mugs and plant your favorite herbs in them. You can set them on the counter beside the sink.
Are you looking for flats in Kerala? You might want to consider some of our recently completed projects and ongoing ones, from which you can choose the one that suits your needs. 
2.  Turn an old shelf into a fun living room bar cabinet!
Your old bookcase can be revamped into a fun bar for entertaining. Give it a fresh coat of paint, place a lamp on top and get some wine bottles and some nice decanters. The shelves below can also be used to store and display extra wine glasses and tumblers. Here you go! You have created a bar of your own. Enjoy some chilling time with your family or friends over some drinks.
Do you wish to choose your home from amongst the various apartments in Kerala? We can help you in your decision-making process and help you own the home of your dream. 
3. Liven up your living room wall
Did you know that by adding some nice, beautiful and lively pictures around you can surround yourself with a good vibe and liveliness? Don't throw away that old calendar from previous years. Instead, tear out your favorite pictures from them and frame them. Hang a couple of photos to form a nice display above a table or shelving unit at your living room wall. Place a pitcher with some fresh flowers atop a decorative tray for a final touch.
Looking for apartments in Kozhikode or for flats in Kottayam? Our team would be more than happy to help you check through our various options. 
4. Brighten up Your Bedroom
Give your bedroom a dash of color by just changing the look of the headboard. You don't have to physically replace the headboard. Just a colorful tablecloth draped over the headboard can change the entire look of the room.
To complement the effect, swap out your nightstand for a short step ladder painted nicely to match the headboard and hang a mirror above it to catch the sun rays coming through the window.
Have you checked out our Kochi apartments and villas in Trivandrum for sale? If not, please do before we are sold out. 
To Conclude
When it comes to home redecorating, it is not necessary for you to spend a lot of money to give your home a fresh look. All that you need is some imagination and a few interesting items that you've already got lying around the house. 
To revamp your flats in Kochi, you can make use of the ideas mentioned above or come up with your own form of styling that will give your home a totally new look and feel.