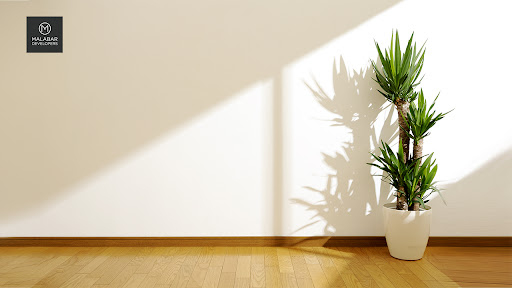 Summer is all about bright sunshine, lush greenery, cool drinks and cold ice-cream! Most of us enjoy and look forward to spending time outdoors. However, summer brings along heat and humidity, and we feel it intensely even when we are inside the four walls of our home. 
Kerala summers are hot and humid, making life inside homes quite unbearable for a few months, from the dawn of day all the way into the night. And thus, this heated-up story is the same for almost all the residents in the apartments in Kerala. 
Listed in this article are the ways to keep the summer heat outside so that you can stay cool inside.
 Things heat up with direct sunlight, and this is so true for the rooms inside our homes too. If your blinds are kept open throughout the day, it does allow in an abundance of sunlight and illuminate every corner of the room thoroughly. It also brightens up your decor, making it look nice. However, along with this comes the drawback of heat generation. 
Keeping the blinds closed for a majority of the day prevents heat generation and makes the room much cooler and more comfortable. Open the blinds only for a limited time or only if it's necessary.
If you are searching for flats in Calicut or villas in Kozhikode, do make sure to include an adequate and essential number of blinds in your home, which will help you deal with the summer heat.
 Open windows let in fresh air and eliminate stuffiness. Windows actually work in quite the opposite way to blinds, allowing the trapped heat inside a room to escape out. So, use your windows correctly. For instance, if you sleep with closed windows at night, it will hold the heat inside through the next morning. 
People living in flats in Kochi can normally be seen leaving the windows open at night before going to bed and keeping them shut during the dusk to prevent the entry of mosquitoes. With mosquito nets or mesh, you can leave the windows open at night, allowing cool air to enter.
Choose the decor appropriately.
 It's a fact that darker colours absorb more heat. Hence, the colour of your home decor has a significant role to play in making your rooms hotter. Switching to lighter coloured decor will help. Some good colours to consider for lighter decor are white, light blue, beige, and so on.
The thickness and material of the decor and other elements at home also matter. For instance, heavier bedding is not conducive to summer weather. Switch to materials like cotton that are a lot cooler and breathable. Consider including decor elements from natural options such as bamboo and buckwheat.
Are you searching for a 2 bhk flat for sale in Trivandrum or villas in Trivandrum for sale? We have got some extraordinary options for you to choose from. Do call us for more details.
The right placement and direction of ceiling fans
 Getting through the summer without fans is impossible. Fans circulate cool air around and slow down the heat from piling up inside. A useful tip is to have them spin counter-clockwise (the opposite direction it usually spins). That will allow them to push air downwards, resulting in a cool breeze below. 
Locate the directional switch on the fan, flip the switch, and feel the difference almost instantly. This does the same job as an air-conditioner, making the job done effectively and efficiently at a lower cost.
Your search for the top Kozhikode builders ends with us. With years of experience and credibility, Malabar Developers is the right choice for you to purchase your dream home.
Summary
Looking for flats in Kottayam for sale or flats in Cochin or any other part of the state? Your search for the ideal home, both in style and feeling, is made a reality by Malabar Developers. 
Our properties by themselves have a chilled-out, relaxed atmosphere that is perfect for the summer season. Experience a relaxed, refreshed, and rejuvenated living experience in a Malabar home. Only here can you begin a new life of prosperity and convenience!