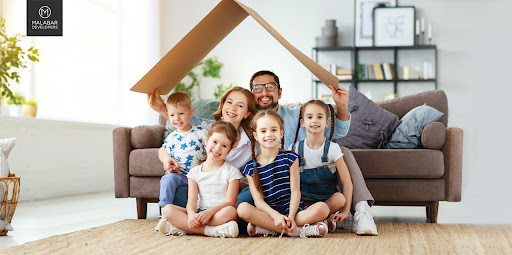 Are you someone who has been searching for flats in Kerala for large family accommodation? Or, did you just move to a new location and have a family with so many members? Irrespective of your situation, to find the perfect apartment that suits the needs of everyone in the family, especially a large one with Mom, Dad, and the little ones, there are several things to consider before you make a purchase decision. 
Having a large family makes it imperative that you stay in a comfortably sized home that meets the needs of every member of your family. This ensures that you and all your family members can live a comfortable life and carry out all your activities in a smooth and desired manner. 
Top builders in Kerala, like Malabar Developers, have apartments and villas that are ideal for a large family's requirements. Getting in touch with our agent will let you have the required information and insights into the best options from which you can choose the one ideal for you. 
And, if you are looking for location-specific homes, we have some beautiful apartments in Calicut for sale. 
Or, our apartments in Trivandrum for sale will also be an ideal option for you. We have great suggestions and options for you to choose from in other parts of the state as well. 
There are several factors that we have taken into consideration before we construct an apartment or a villa that is specifically tailored to meet a larger family's requirements. This article will give you an insight into that useful information, which will come handy as you make your decision.
The most important factor is the location or the city where you want to buy your property. A city like Kochi is undoubtedly a favourite destination amongst the majority of its customers. Similarly, each city has its own uniqueness to offer, and you should understand and shortlist the ones that perfectly match your requirements. 
A decision on your budget and requirement list comes next. And for that, you should include your family members' opinions before coming to a final decision. Each one of them might have different preferences or requirements and understanding those will save you from problems that could arise in the future.
Next comes the decision on whether to purchase or rent an apartment. If your requirement is only temporary and you have moved into the city for a specific time period, then it's always ideal to rent an apartment. We have options for rental apartments in Trivandrum, Kochi, Calicut, and other parts of the state too. Do contact us to find out more. 
If you are planning to purchase an apartment, then do so only from the best builders in Kerala, like Malabar Developers. Our credibility and the quality of our projects speak for themselves. 
Space is a major factor that needs to be considered as you go about shortlisting your selections. Make sure to have the right number of bedrooms, bathrooms, and other specifications for the kitchen and other rooms fulfilled before you move your family in. 
Also, decide what features you want in the community and learn about other aspects like whether pets are allowed, the level of safety and security, community rules, maintenance availability, and so on.
Find your perfect fit.
Trying to find an apartment that suits the whole family means taking everyone's wishes into account. Take enough time to think through all your family's needs, have some online research done, and view different apartment options before you come to a final decision. 
The options for villas in Kerala are ample, as is the availability of apartments for rent. Choose the one that suits your family's and your requirements after considering all the pluses and minuses.