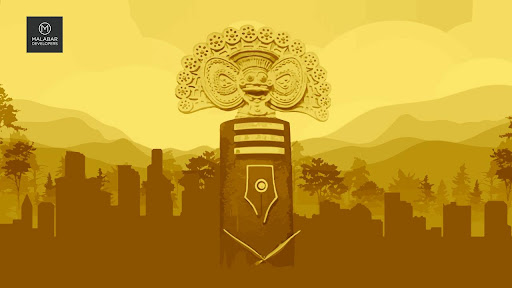 Kottayam is a peaceful town in Kerala known for its contributions to literacy and its beautiful green environs coupled with mountains and streams. Also known by the name 'City of Letters', Kottayam is slowly donning the mantle of a metropolis. High-rise buildings and apartments in Kottayam are a more common sight today. If you want to savour the peaceful environs and the greenery away from the busy life in the city, it is a good idea to reside in flats in Kottayam.
Your daily life will be peaceful and stress-free if you live close to conveniences such as schools, hospitals, banks, shopping areas, public transport hubs, etc. Transport connections to other places in Kerala from Kottayam are available via buses and trains, with these stations located in the middle of Kottayam town. Therefore, it is a good idea to look out for "flats in Kottayam for sale" in these central districts of the town.
Kottayam is rich in greenery and houses many plantations for commercial crops such as rubber, coconuts, and other spices. There are many small hill stations near Kottayam that are just a drive away. The Vembanad Lake situated at Kumarakom  offers boating facilities too and also houses a beautiful bird sanctuary. Kottayam has quite a few historic buildings that include ancient temples and churches.
You should pick out flats in Kottayam that sport world-class amenities like generator backup, play areas for children, walking tracks, swimming pool, clubhouse, gym, etc. If so, then you do not have to look out for these amenities outside your home. This definitely means substantial savings in your daily expenditure. You will also save a lot of time, which instead can be spent with your loved ones.
Ensure that the apartments in Kottayam are located in a place that is away from the hustle and bustle of the town and in a quiet neighbourhood. There are several apartment complexes in Kottayam strewn in different localities of the town.
As the spending capacity of the people in Kerala has increased considerably, flats in Kerala are vastly different and are designed to suit the tastes of the buyers. It is no different in Kottayam either. Some are budget apartments, while others are luxury dwellings. There are apartments that suit the pockets of a variety of home buyers.
Apartments in Kerala are popular for the finesse in construction and finishing as well as for the facilities that the complexes offer. In Kottayam, flats present modern architecture with precise planning as well as after-purchase support from some of the builders. Some of them also help you with resale facilities and rental assistance. Many apartments in Kottayam can be made to suit personal specifications, and this makes them a very popular option.
Moreover, there need not be any concern regarding the safety and security while living in apartments in Kottayam. Most of them are equipped with CCTV systems, visitor management systems at the gates, and 24/7 security personnel stationed at the entry and exit gates, etc. All these facilities ensure a sense of belonging and safety, especially for the children and the older residents.
Kottayam is thus becoming a town for making sensible investments in the real estate sector.