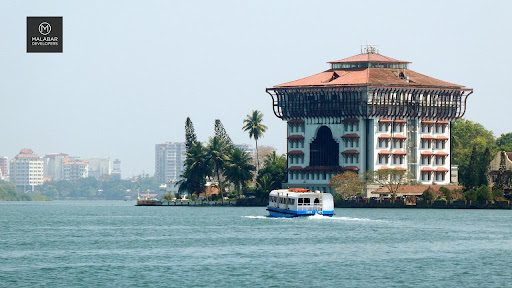 Kochi, otherwise known as the Queen of the Arabian Sea, rightfully bears this name. Located on the western coast of the country in Kerala, the southernmost state, Kochi is a city of immense beauty and great commercial importance. 
Known for its natural beauty, it is flanked by the Arabian Sea on one side. Its proximity to other major cities in neighbouring states like Coimbatore, Salem, and Bengaluru also adds to its importance. Kochi has a teeming population of young people, many of whom are employed by IT companies.  They are always looking for places to settle down and lead a peaceful life. Here we attempt to list 5 of the best suburbs of Kochi.
Kakkanadu
Home to Infopark, which is the hub of major IT companies and where lakhs are employed, it is a beautiful residential area too. It is one of the most preferred areas, and the best luxury apartments in Kochi are ‌in this area. Many of the top builders in Kerala have upcoming projects in Kakkanad. 
There are many budget apartments too that are available for takers in Kakkanad. There are several schools and institutions of higher education located in the area. Kakkanad is well connected to the other areas of Kochi. It lies close to the National Highway. All upmarket amenities are available in this suburb. 
Palarivattom
Palarivattom is a popular suburb that is located close to the arterial MG Road in Kochi. Many luxury flats in Kochi can be found here. There are several renowned specialty hospitals and renowned schools in the area. The Palarivattom Market is great for shopping. If you want to buy a flat in Kochi, Palarivattom is a good choice as it is close to the heart of the city. 
Edappally
Edappally is now home to one of the biggest malls in India, the Lulu Mall. Another landmark in this suburb is the famed Edappally Church. Some of the best flats in Cochin are ‌in Edappally. If you are on the lookout for a modern suburb with a touch of the traditional as well, Edappally is the place for you. 
Kaloor
Kaloor is easily accessible from both the southern part and the north of Ernakulam because of the connecting roads. The best builders in Kerala have floated projects in Kaloor. There are many premium projects in Kaloor floated by the best builders in Kerala. 
The famed Jawaharlal International Stadium is ‌in Kaloor. This is a venue for many national and international sporting events. Kaloor is a suburb that also has many budget-friendly amenities that would suit young couples wanting to start their lives. 
Aluva
Aluva is further away from Kochi than the other suburbs mentioned above. However, Aluva town is self-contained and houses the best hospitals, schools, and colleges. The Kochi International Airport is located close to Aluva, and this is a major advantage for those who have to travel frequently. Many affordable flats and apartments are available in Aluva. Endowed with a lot of natural beauty, Aluva town is an attractive place to live and spend your life peacefully. 
If you are looking to start your life in this city or relocate here, you can buy a modern and convenient Kochi apartment that is ‌in one of these suburbs.